Shared and private transportation from Guatemala city to Salamá, Baja Verapáz
You can request your quote completely free of charge in the following ways.
Guatemala city to Salamá, Baja Verapáz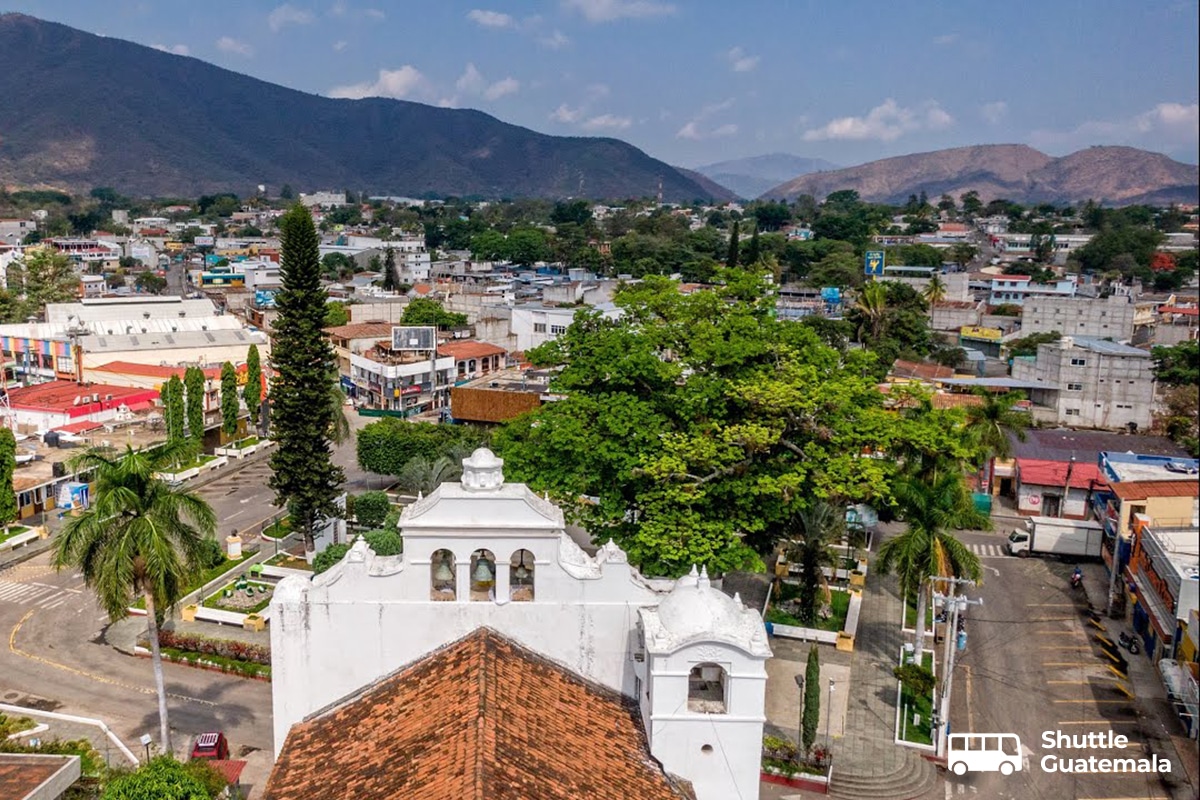 Are you in the capital city? Have you not chosen a tourist destination? Salamá can show you unparalleled adventures, where you can create beautiful memories with your family, friends or acquaintances to make your vacation the best and you can take a good taste in your mouth with all the fun you can find.
Salamá is a municipality and departmental head of the department of Baja Verapaz located in the northern region of the country next to Alta Verapaz and Peten, is located at a distance of 145 kilometers away from the capital city and with a travel time of approximately 3 hours and 45 minutes, Salamá is a municipality with a cold climate and mountainous terrain being one of the places worthy of the habitat of the most beautiful bird of the country, yes! it is I am talking about the Quetzal, the national bird of Guatemala.
What can I find in the municipality of Salamá.
Salamá has some very beautiful tourist attractions where you can be surrounded by nature, admire the flora and fauna of the place, as well as encounter animals such as monkeys, rodents and a great diversity of birds that will make you want to visit it immediately and make an expedition in one of its many trails to create beautiful memories with your family, friends or acquaintances and spend quality time with all of them.
Quetzal Biotope. (Purulhá)
It is a park that is located 42 kilometers away from Salamá, it is completely protected by all the biodiversity that exists within it, it has more than a thousand meters (1000 meters) of territorial extension where you can walk freely on the trails where you will witness a unique experience shared with nature and wildlife that inhabits that place.
It has archaeological, historical and recreational sites so you can continue to enjoy your stay in this beautiful and wonderful park, the vegetation is something that complements the park, being a type of cloud forest dominated by species of epiphytic vegetation whose species are those that are born and grow on top of other plants which only use them as support for their growth as are the species of orchids being one of these the White Nun, the national flower of the country.
It also has a surprising amount of tree species, since this biotope has more than 50 species of trees among which we can find cypresses, pines, eucalyptus, air plants, oaks, many more species, as well as you can run into different waterfalls of crystal clear water that is certainly another visual spectacle that you could meet on your next visit to this beautiful place.
The fauna is something that also predominates in this place demonstrating that within the country there is a great diversity of fauna, and as proof of that we have more than 80 species of birds that exist within the park, highlighting among them a species that certainly everyone would like to meet someday, I'm talking about the national bird Quetzal which lives within this natural paradise, being one of the most beautiful birds of the place and if at some point you manage to appreciate one you will be one of the few people who have been able to run into a beautiful specimen of this type.
This park is one of the great attractions that this small town has and undoubtedly the most striking for all those nature lovers who prefer to live an experience surrounded by nature.
Salamá River.
It is another tourist destination that has this beautiful municipality, is a river that is located between the municipalities of San Jerónimo and Salamá being a beautiful attraction for lovers of photography and nature to be surrounded by complete nature where you can walk on its sides without a doubt and take more than one picture to always remember this beautiful place that is completely open to everyone so you can get to appreciate the beauty of this town and all it has to offer.
Salamá Central Park.
Another of the attractions of this municipality is its central park full of life where you can appreciate sales of handicrafts, local fruits, vegetables and many other things for your fun and food. It is a completely clean park taking care of the nature that surrounds it by its inhabitants to be able to appreciate a clean and full of life area.
Salamá also has hotels where you can spend the night with your family or friends and appreciate a sky full of life and a town completely surrounded by nature, as well as restaurants where you can taste a typical dish of the place and take that culinary flavor of the food of the municipality of Salamá.
How to get to Salamá?.
To get to Salamá from the Capital City you can opt for a collective/Shutlle or Private service.
You can request your quote completely free of charge in the following ways.